The seventh annual Comics x Games (formerly known as Comics vs Games) is coming your way for TCAF 2018! We're on the second floor of the Toronto Reference Library, as usual and we have quite the lineup planned.
If you have any questions, please contact cxg@handeyesociety.com (all e-mail will be forwarded to the CxG/HES Logistics team: Amanda Wong, Ken Cho, Alanna Predko and Sagan Yee).
Programming!
We've got two amazing panels lined up, both at 1:30 PM in the Learning Centre in the Toronto Reference Library. These talks will offer a glimpse of comic artists and publishers venturing into the world of digital and tabletop games. Gain insights about the creative vision and development process behind two different but complementary disciplines, and meet contemporary artists forging new paths through the Comics x Games scene.
SATURDAY, 1:30pm, Learning Centre, TRL: Tea Dragons Spotlight: Comic Publishers Getting Into the Game
SUNDAY, 1:30pm, Learning Centre, TRL: From Panels to Pixels: 3 Comic Artists Making Videogames
Tea Dragons Spotlight: Comic Publishers Getting Into the Game
Saturday, May 12
Toronto Reference Library, 789 Yonge St.
1:30 PM, Learning Centre
FREE
"Everything fit the lore so perfectly, and it felt so magical and special to have such a thoughtful game based around the world I had made built by talented game designers! It feels so true to the spirit of the story, and I hope that when people play it and raise their Tea Dragons, they'll make their own memories to share with friends and families."
-Artist Katie O'Neill on The Tea Dragon Society Card Game by Oni Games and Renegade Games
Meet the game designers and artists who are working together with comics publishers to create playable worlds! VIZ Media has recently partnered with Portland-based Rose City Games to create original videogames, starting with supernatural teen adventure The World Next Door. This year, we put the spotlight on The Tea Dragon Society, a card game adaptation of Katie O'Neill's charming webcomic published by the Oni Games division of Oni Press. Discover how artists, publishers and game designers collaborate to form unique partnerships bridging two communities, each with their own challenges and rewards.
PANELISTS:
---
From Panels to Pixels: 3 Comic Artists Making Videogames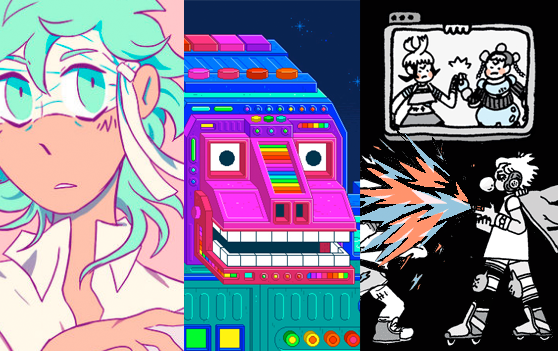 Sunday, May 13
Toronto Reference Library, 789 Yonge St.
1:30 PM, Learning Centre
FREE
Three indie comic artists are taking their creative vision to the interactive digital world, with eye-catching results. Explore the shifting boundary between indie comics and videogames with three projects in different stages of development: Tropical Depression Tendency, a visual novel where a seemingly flawless paradise masks deep trauma; Spinch, a psychedelic, fast-paced sensory experience; and Bravery Network, a Pokemon-for-adults futuristic fighting game with a hand-inked visual style. Learn about the diverse roles of the artist in the indie game dev process, from DIY development to collective creation.
PANELISTS
---
Panelist Bios
IASMIN OMAR ATA
Iasmin Omar Ata is a Middle Eastern / Muslim / epileptic comics artist, game designer, and illustrator whose work revolves around the themes of coping with illness, understanding identity, dismantling oppressive structures, and Arab-Islamic futurism. Their recent graphic novel, Mis(h)adra, is a searingly honest and vivid account of epileptic lived experience that has resonated with readers and reviewers alike; while their comic Zenith and game Being address identities and futures with a genuine and hopeful voice. They thrive on dedication, dreams, and hard work — and believe wholeheartedly in the healing power of art. Her newest game, Tropical Depression Tendency, is a free-to-play episodic survival horror/RPG about overcoming trauma and depressive states.
---
JESSE JACOBS
Jesse Jacobs is the author of the comic books By This shall You Know Him, Safari Honeymoon, and Crawl Space (Koyama Press). He has recently transitioned into the world of video game design, and his first project, Spinch, will be available Summer 2018. His drawings have appeared in The New York Times, The Pitchfork Review, McSweeney's Quarterly, and Le Monde Diplomatique. He currently lives in Hamilton, Ontario with his partner Jinette and his dog Desmond.
---
KATIE O'NEILL Katie O'Neill is an illustrator and graphic novelist from New Zealand, and author of Princess Princess Ever After and The Tea Dragon Society, both from Oni Press. She mostly makes gentle fantasy stories for younger readers, and is very interested in tea, creatures, things that grow, and the magic of everyday life.
---
KELLY K
Kelly K is an illustrator and cartoonist who spends half her time in Toronto and the other half on the net. She is the proud founder of the Space Youth Cadets, and 1/4 of Gloam Collective. At this moment, she is gearing up for 
Bravery Network,
 a future turn-based battle game where only the bravest team can reign supreme!
Steve loves sharing gaming experiences with friends and family so much that he left his high-tech engineering career in 1998 and opened a retail store (Rainy Day Games). As the store prospered he had time for another passion that had been dormant since his childhood – designing and developing games. He has worked on a wide variety of games and made so many wonderful friends that he can barely fathom doing anything else. Steve teamed up with Oni Press to form Oni Games in 2017 and The Tea Dragon Society Card Game is their newest release.
When Steve isn't working on a game you might find him at his store or at a gaming event helping others foster communities around their own Friendly Local Game Store. Steve also enjoys disc golf and curling (yes, that strangely hypnotic game on ice).
---
FULL ARCADE LINEUP!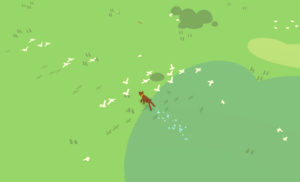 Chasing Birds
David Czarnowski
Toronto, ON
Chasing Birds is a relaxing, exploration game. Play as a dog in a park and chase those pesky birds!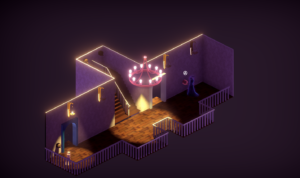 Chiaroscuro
Recharge
Toronto, ON
Chiaroscuro is a two-player co-op isometric puzzle game, with light and dark as its primary puzzle mechanic. circuits
Eileen Holowka
Montréal, QC
circuits is a narrative-based Twine game that explores the act of remembering, witnessing, and narrativizing sexual trauma. Through poetry and photography, circuits looks specifically at an individual's experiences with sexual trauma in order to explore how the act of writing sexual trauma is negated and rehashed through institutions, on media platforms, and in courtrooms. circuits' fragmented and cyclical construction reflects the chaos of remembering and repeating trauma.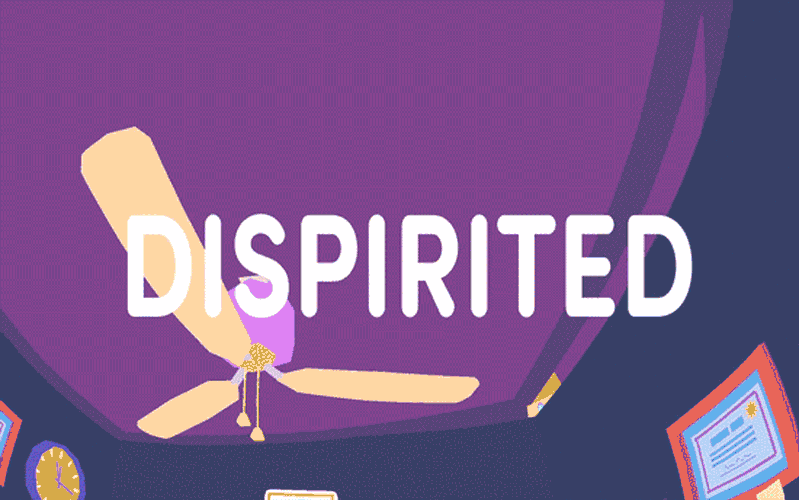 Dispirited
Marishka Zachariah and Jesse DeNobrega
Toronto, ON
For spirits and cryptid creatures, healthcare is difficult when 99% of the population doesn't believe you exist. Players take on the role of experimental surgeons, using their conversational and metaphysical steady hands to understand and then cure mysterious cryptids of their physically manifested existential crises, even from deep inside. A spirit surgery simulator in glorious VR!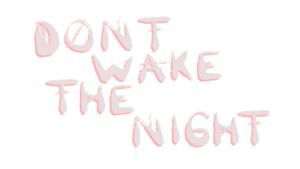 Don't Wake the Night
Brujería @ Werk
Toronto, ON
DON'T WAKE THE NIGHT is a 2D point-and-click narrative game about witches and conflict. You, the player, are the spirit summoned by them and by eavesdropping on their conversations, you will piece clues together to make an important decision: who is to be punished for this commotion?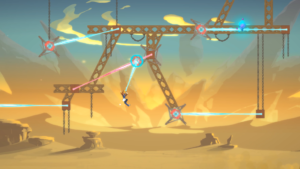 Double Cross
13AM Games
Toronto, ON
Double Cross is an exciting action adventure game that has players take on the role of Zahra, an agent of RIFT (Regulators of Interdimensional Frontiers and Technology) whose job it is to maintain peace and order between all dimensions. Developed by 13AM Games, the studio behind Runbow, Double Cross features an adventure-game style investigation crossed with an intense action platformer. Players are also free to customize Zahra's play style in order to become the top RIFT agent.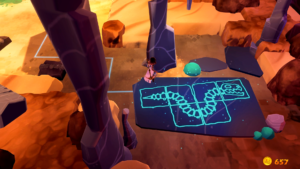 Fossil Hunters
Reptoid Games
Toronto, ON

Fossil Hunters is an action-adventure game about digging for fossils and building your own dinosaurs.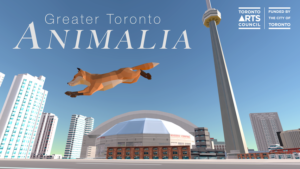 GTAnimalia
Jason Bond
Toronto, ON

Greater Toronto Animalia (GTAnimalia) is an open-world game set in a recreation of Toronto (generated from real map data), allowing you to play as one of several local wildlife species.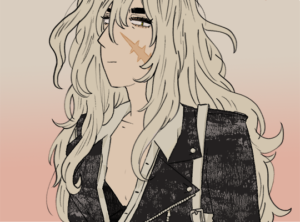 Heaven Will Be Mine
Pillow Fight Games
Washington, DC
Heaven Will Be Mine is the spiritual successor to our cult hit, We Know the Devil, that explores relationships in the void of deep space. As one of three ace mecha pilots, you use a scifi console to measure your alignment to one of three warring factions, then choose which missions to take and how to engage.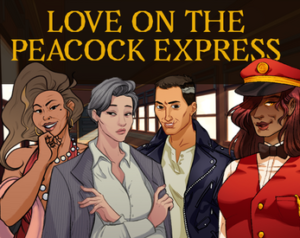 Love on the Peacock Express
Circle of Eyes
Scarborough, ON
Love on the Peacock Express is a visual novel where you play as a gutsy private investigator. You've always been interested in two things: solving mysteries, and kissing hot older women. Now you're on a luxury train with as many mysteries as there are hot older women. So… who do you kiss first?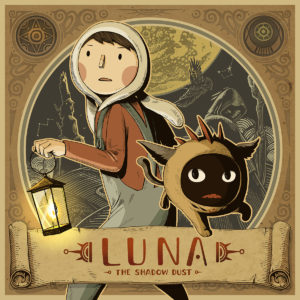 Luna: The Shadow Dust
Lantern Studio
Shanghai, China
Behind the veil of reality, lies an enchanted world. When the world lost its balance, it fell upon a boy to take on an unexpected journey. Until the moon rises again, the order of the world will not be restored. One can not go back in time to correct his mistake. Whatever happened is irreversible…or is it?
Together with our main character and his mystery friend, players will experience an unique adventure that requires both courage and determination. Enter the ancient tower that stands at the edge of world, help the character bring back his lost memories and find out the darkest secret beyond the tower itself.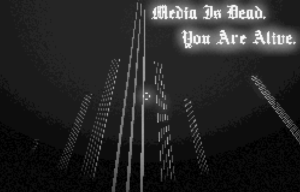 Media is Dead, You are Alive
MrTedders
Brampton, ON
Media is Dead is a game about various pieces of media that have value to me that I can't express in words. It plays like a first person explotory game with puzzle elements.
Museum of Symmetry
Paloma Dawkins
Montréal, QC
Museum of Symmetry is an "other-dimension", 2D-in-3D playground, virtual reality adventure game that disrupts conventional storytelling with a unique experience between humans and nature.
Produced by the National Film Board of Canada in collaboration with Casa Rara Studio, Montreal-based pioneers in virtual reality projects.

Pike 'n Shot
Smith's Fine Electric Amusements
Toronto, ON
Pike 'n Shot is inspired by both the Gameboy game Mercenary Force as well as the battlefield part of the NES/Amiga game North & South. These games looked so cool to me as a kid whenever I saw them in magazines but then when I actually played them they both proved to be pretty awkward and unsatisfying. Pike 'n Shot is my attempt to make a good game out of the idea of a fast paced, real-time renaissance battle that is streamlined, fun, and plays sort of like a shoot'em up.

Salad Hunt
Salad Hunters Inc.
Boston, MA
Salad Hunt is a kitchen destruction game inspired by classic arcade shooters and compresses them into a mobile form that is accessible to the next generation of gamers. Players take the role of The Chef and find that their kitchen has been invaded by ultra fresh salad ingredients that have come alive as cute, but mischievous characters. The Chef tosses forks, bowls, and lettuce at them in the hope of saving what remains of his kitchen, but ironically destroys it even further in the process.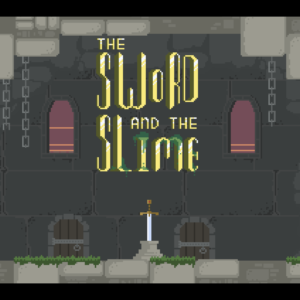 The Sword and the Slime
Dennis McCorry
Rochester, NY
The Sword and the Slime is a quirky fantasy puzzle action game in which the player stars as a magical flying sword that is charged with protecting various characters they are bound to.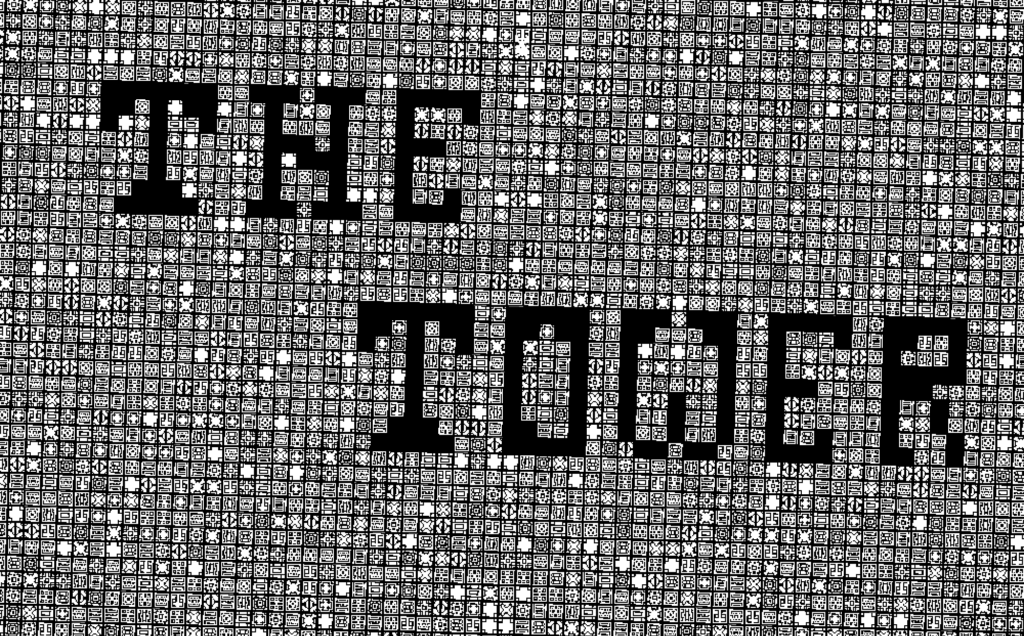 The Tower
MrTedders
Brampton, ON
As a tiny pixel with a shotgun, make your way through the levels of a swaying, dissolving Tower while a barrage of enemies attempt to take you out from the darkest of creeping corners.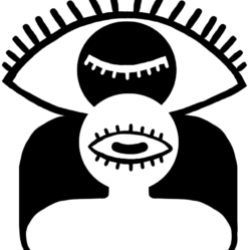 The Unfathomable Anthology
The Unfathomable Siblinghood
Toronto, ON
Choose your own mini adventure! We have BBQ Postponed, our murder mystery/monster dating simulator, Analysis Complete!, our alien science scavenger hunt, Swamp MD, in which you much collect icky swamp materials to heal yourself, and Aggie vs the Forest, where you car breaks down in a magic forest.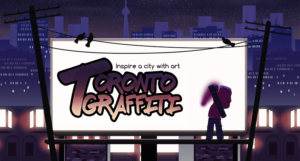 Toronto Graffiti
Pied Piper Games
Toronto, ON

Run around Toronto, cover up advertisements with graffiti to reveal more art. 2D platformer with some stealth mechanics and touch controls. THE ARTIST A.K.A. LOGIC sees it as his mission to free his neighbourhood from corporate control by covering up Omni's advertisements with inspirational public art.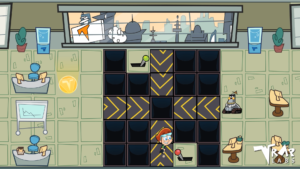 Trap Labs
Nonce
Toronto, ON

Trap Labs is an action-adventure game inspired by bounds and mazes from classic RTS custom maps.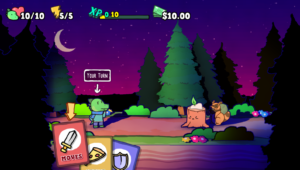 Untitled Paper RPG
Adam Robinson-Yu
Toronto, ON
This is a turn-based RPG adventure game, inspired by entries in the Mario RPG series. The game follows a paper crocodile who sets out rescue a missing family member. You can explore a 3D world and fight enemies in turn-based combat.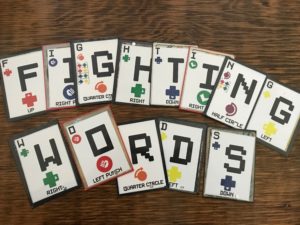 Fighting Words [Tabletop]
Jonathan Lavallee
Toronto, ON
It is a word card game that doubles as a fighting game. You choose your fighter and draw a handful of cards and use those consonants and all the vowels to make words.
Loopy Lore [Tabletop]
Guilherme Rosolia
Toronto, ON
Loopy Lore is a Collaborative Improv Storytelling Card Game for 2-4 people where you and your friends join forces to create the world's best/worst Fanfiction. It mixes a mobile support app, physical cards and improv exercises to give people an opportunity to create a story together.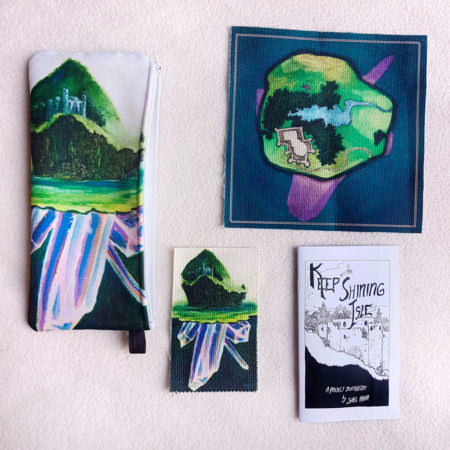 Pocket Dungeons [Tabletop]
Rachel Kahn
Toronto, ON
Pocket Dungeons are small zine-sized tabletop RPG adventures, packaged with illustrated peripherals such as a fabric patch of the location, a fabric map of some aspects of the location, and an illustrated pencil case in which will fit all peripherals and the zine itself, along with pencils, dice and folded paper if the owner so desires.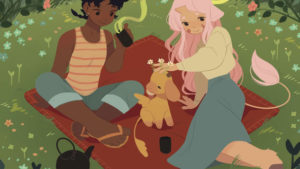 The Tea Dragon Society: Card Game [Tabletop]
Oni Press / Oni Games
Portland, OR
Players take on the role of caring for a Tea Dragon. Throughout this process there will be ups and downs but as players progress through the four seasons the bond they form with their Tea Dragon will grow and they will create memories together that are the victory points at the end of the game.
---
COMICS X GAMES CREDITS
Arcade Jury
Sagan Yee
Ken Cho
Amanda Wong
Programming Consultants
Kim Hoang
Kalervo A. Sinervo
Miguel Sternberg
CxG Jam Consultant and TCAF Liaison
Kim Hoang
Hand Eye Society Logistics Team
Sagan Yee – Executive Director
Ken Cho – Tech Director
Alanna Predko – Communications and TCAF Liaison
Kai Winter – Volunteer Coordinator
CxG Founder
Miguel Sternberg
TCAF Staff
Chris Butcher
Miles Baker
Documentation
Evil Beach Media
Sponsor
Ontario Media Development Corporation
---
COMICS X GAMES CREDITS (2017)
Arcade Jury
Sagan Yee
Ken Cho
Alicia Contestabile
Jim Munroe
Kadeem Dunn
Programming Consultants
Kim Hoang
Kalervo A. Sinervo
Miguel Sternberg
CxG Jam Consultant and TCAF Liaison
Kim Hoang
Hand Eye Society Logistics Team
Sagan Yee – Executive director
Ken Cho – Tech director
Alicia Contestabile – Artist liaison
Al Donato – Social media
Kai Winter – Volunteer coordinator
CxG Founder
Miguel Sternberg
TCAF Staff
Chris Butcher
Miles Baker
Sponsor
Ontario Media Development Corporation